Submit Your Pages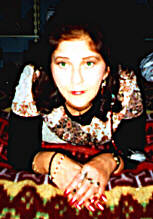 Melody Jackson
WARPAINT
Here, put this on- this cheek color,
and cover up all your freckles,
donít forget to curl your hair,
eyeliner goes right here,
mascara makes your eyelashes long,
but not for long,
if you use all these things,
you wonít have to share your heart,
you wonít have to take the chance,
heíll see the fear in your eyes, as you
remember all the others who's lies,
you believed before...
Angel of My Dark
in the solitude of my nights, you open the door,
to my heart, so lost and lonely,
and you pick up each part,
and put it back together,
hold me near, quiet my fears,
tenderly brushing back my hair,
kissing my eyes...
I cannot see your face, but I know when you are near,
I remember your hands loving me,
holding me, tenderly making
my love precious,
brushing off the dirt of the forgotten heart,
and you sing to me, bring to me,
the courage to start
in the daylight, I need you,
in the sunrise I reach to you,
but you are gone like a song without words,
leaving me alone to face the day,
and wait on eves gentle shadows,
to hold you once again,
just once again...
in naked shadows your caress touches me,
with a passion I canít deny,
where can I go, what can I do,
to make you come true
my angel of the darkest
parts of my heart.

Melody lives in Juneau, Alaska. She is currently working on a book of poetry, and has been published in The Vault-Soul Fountain Art and Literary Journal. She was the only person chosen to represent Alaska in this journal. Here's a quote from the author:
"I express my soul in my poetry, and being of the Tlingit Nation/Raven Moiety/Dog Salmon Clan, the experience of a single Native woman living on her own, a very humble existence, but very rich in that the beauty of life is abounding everyday for us to enhale and enjoy."
"I I hope they (my poems) express my life as it is full of love, life and the joy of expecting each day as a miracle from God.
We must learn to seek peace and walk in beauty, and find the harmony to balances our life. "
Well said Melody we here at Romance Haven are proud to feature your beautiful poetry.
All files submitted to this site are from independent authors, we do not have the resources to check the contents of these files for copyright infringements. We assume that the authors have given full credit where required. However, sometimes an infringement can still occur. If this is the case, and you own the copyright and wish to have the file removed, please inform us, and we will notify the author and remove the file.
Visit our chat room and meet new writers like yourself. Talk about the excerpts or what ever cross your mind.

please send your pages via e-mail, with the word "excerpt" and
"
Romance Haven
"
in the subject line.

The number of excerpts will be limited to space available. If your excerpt is used, we will alert you via e-mail.

After use in the E-Zine for one month, we will move featured submission to the archive section of magazine. Proper links will be maintained in the archives.

We will divert traffic to the writer's site if requested. Please provide a URL with your submission if this is your desire.

In the event of numerous submissions only the top excerpts will be chosen.

Needless to say let's keep it relatively clean. No porn, violence against women or excessive foul language. Only serious novelists need apply.

Unfortunately at this time we are unable to compensate for your excerpts. All rights remain with writer. The staff and writers of Romance Haven are writers who volunteer their time to publish the ezine. Our goal is simply to give writers the means of having their work seen by our visitors and the world. Thank You for your submission in advance.